Kick off for the Brooks vs. Thomas County Central will be 8:00 p.m.

Route 49 will be running an hour late today and tomorrow. Route 50 will be running an hour late the rest of the week. Thank you for your patience and understanding.

Middle School softball game has been cancelled due to weather.

September breakfast and lunch menus are posted on our website.

All schools and offices will be closed on Monday - Sept. 3. A staff workday is scheduled for Tuesday - Sept. 4. Students will return to school on Wednesday - Sept. 5.

North Brooks Elementary is currently experiencing a network service interruption. Telephone and Internet services are down at the moment. We are working to restore services as quickly as possible. In the event that you need to contact NBES, please call (229) 305-8888.

Route number /pickup time may have changed for some students. Some existing bus stops were put on different buses to shorten the trips to / from School. Link for checking routes is on our webpage & posted on Facebook. New routes begin Tuesday afternoon.

Bus routes are getting shorter! Check our Facebook page or our website to enter your address to see if your route and pick up location has changed

Due to the continued inclement weather, it may be difficult for buses to travel safely down our dirt roads. We will need for students to be at the nearest paved road for morning pick up on Thursday. We apologize for the inconvenience and appreciate your cooperation.
Due to continuing inclement weather, some unpaved roads may be inaccessible to our buses. Please plan to have your child at the nearest paved road for pickup tomorrow morning.
Brooks County Schools' Bus 50 is running a few minutes late. We apologize for any inconvenience.

Find My Bus Stop is now available on our website! Go to
www.brooks.k12.ga.us
and click Explore. Then select Find My Bus Stop under the Quick Links section.

Due to communication upgrades, our telephone numbers have changed! Click on the attached image, check our News Story on the website, or check our social media pages for the new listings.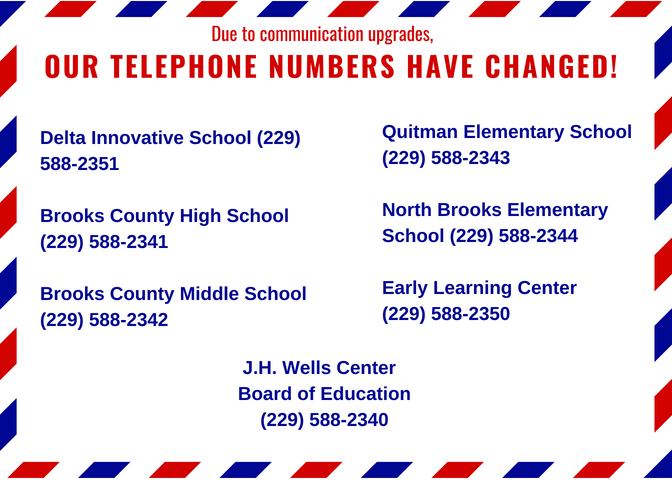 2017 Trojan Football season ticket holders may repurchase their seats from July 24-26 from 1:00-4:00 at BCHS. All other seats may be purchased from July 31-August 4 from 1:00-4:00.

Supply lists for all schools have been posted on our webpage in the Documents folder and have posted on all Facebook pages.

Literacy Task Force meeting on Thursday. Join us at 9:00 a.m.

​Make a note of our new telephone number!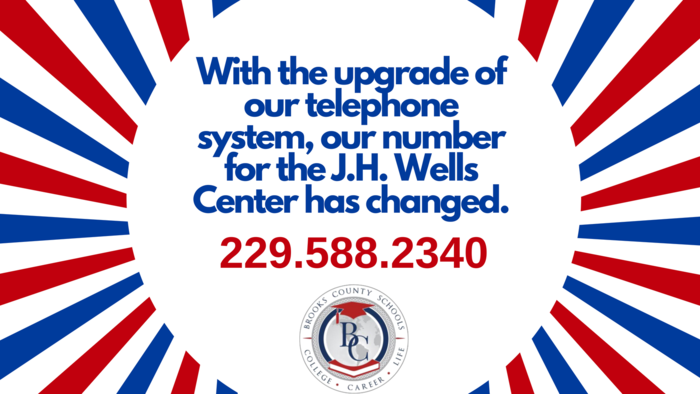 FCA Camp for boys and girls (ages 6- 14) from 8:00-12:30 on May 30&31. $10 includes t-shirt, Bible, and lunch both days. Location is Brooks County High School.

Early dismissal today! Check our website under the "News" tab for the dismissal times at each school.

Join us this morning at 9:00 a.m. for the 8th grade Promotion Ceremony at Brooks County Middle School.