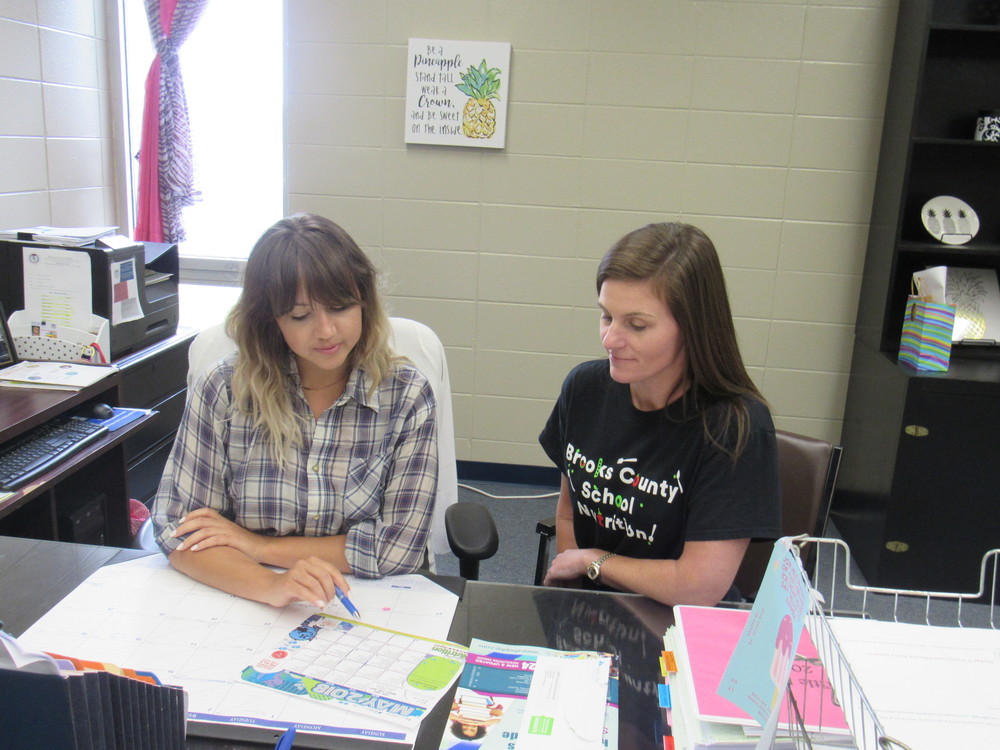 Chef Wilson Plans Summer Feeding Program
Tonja Healey
Monday, May 21, 2018
Brooks County Schools Nutrition Director, Chynna Wilson, is committed to providing nutritious, yummy-tasting meals for the students of Brooks County. Chef Wilson has a degree in Culinary Arts from Utah Valley University. Her background includes working in the culinary industry for over ten years in multiple states including New York, Utah, and Georgia. Chef Wilson has also served as a Culinary Arts Instructor at Wiregrass Technical College for four years. Her passion is to not only make delicious meals, she would also expect her meals to look pleasing to our students' eyes. Chef Wilson has been seen touring the cafeterias to hear feedback from the students at Brooks County Schools to ensure they enjoy their meals. Maurie Tarpley, the School Nutrition Finance Advisor, has also joined Chef Wilson by providing taste tests of possible new items (depending on the reviews of students). They strive to form solid relationships with the students and teachers. "I want our students to know who is creating their lunch menus and where our fruits, vegetables, and meat come from! We strive to stay local and support businesses in South Georgia.", Wilson stated. This school year, they have tested new menu items such as: yogurt parfaits, lemon roasted chicken, bbq pork baked potato, "kfc style" bowls, roasted vegetables, and many more!
Chef Wilson is excited to announce the plans for the Summer Feeding Program. Did you know that any child 18 years or younger may eat breakfast and lunch at no cost during the summer? That's right! Brooks County School's kitchens are open at the following sites: Brooks County Middle School, the BOE Gym, and the Early Learning Center. Breakfast will be served from 7:45am-8:30am. Lunch will be served from 11:15am-12:15pm. Our locations will be open from June 4-June 28, 2018. You will not need to show proof of income and there is no registration requirement. If you would like to pre-order meals for your children or have any questions, please call Chynna Wilson at 229.263.7531 or email her at cwilson@brooks.k12.ga.us.
Pictured are Chef Chynna Wilson and School Nutrition Financial Advisor Maurie Tarpley planning the summer menu.