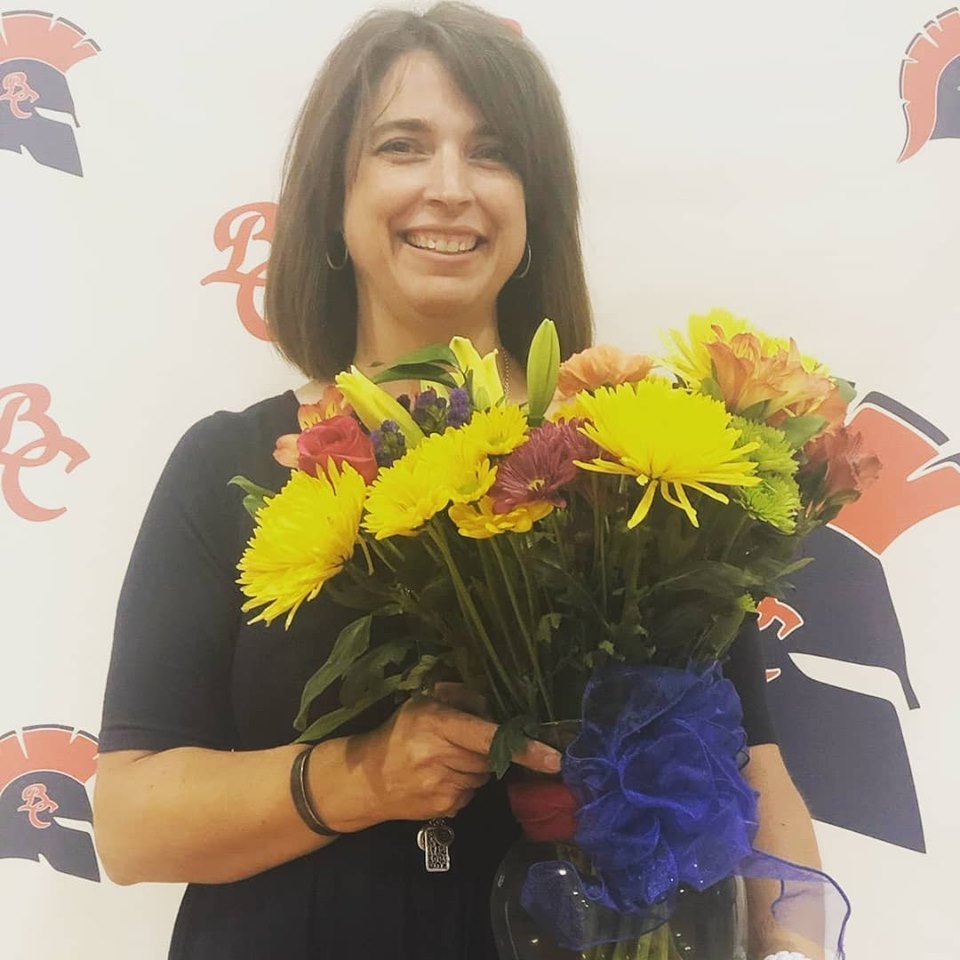 Hiers Named BCMS Teacher of the Year
Tonja Healey
Monday, June 17, 2019
Mrs. Christine Freeman, Principal of Brooks County Middle School, recently announced Mrs. Christine Hiers was voted as the middle school's Teacher of the Year. A graduate of Valdosta State University with an EdS in Curriculum and Instruction, Mrs. Hiers is currently working on her dissertation for a Doctorate in Curriculum and Instruction. She has taught for 24 years with 21.5 of those years serving the students in Brooks County. Hiers currently teaches 6th – 8th grade Science in the Torch Academy. "Mrs. Hiers brings a wealth of knowledge and experience to Brooks County Middle School. She is one who encourages her students but also works to keep her colleagues encouraged as well. She sees the potential in everyone to succeed and continuously reminds us that we can do just that if we strive for our best "stated Freeman.
Mrs. Hiers cannot remember wanting to be anything else but a teacher. She has always wanted to help children be the best they can be. She credits some of her past teachers as influencing her love of education including Mrs. Debra Folsom, Mrs. Carol Taylor, Coach Bill Henry, Ms. Jacqueline Harper, and Mrs. Judy Howell. Hiers believes the most challenging aspect of teaching Is helping students realize their true potential and then getting them to do that little extra work required to reach it. "The most regarding aspect of teaching is seeing a student's reaction when they finally realize they mastered a concept that caused them to struggle." said Mrs. Hiers. One of her favorite moments in her career was in 2002 when she worked in a program called Bridges. As the teacher of this program, she was tasked with teaching two years of high impact standards so students could move on to the 6th grade. "It was one of my hardest years, but also one of the more rewarding" stated Hiers.
Mrs. Hiers is married to Stephen Hiers. They are the parents of four children, Carrilee (Brock) Overy, Shelby, Gavin and Luke Hiers. She has one grandchild, Andrew Overy. When she isn't teaching, Hiers enjoys being with her family, scrapbooking and cooking. Mrs. Hiers will represent Brooks County Middle School in the district competition for Brooks County Schools Teacher of the Year. The winner of the district competition will represent Brooks County Schools in the Georgia Teacher of the Year competition. The Teacher of the Year for Brooks County Schools will be announced at the annual Teacher of the Year banquet in the fall.