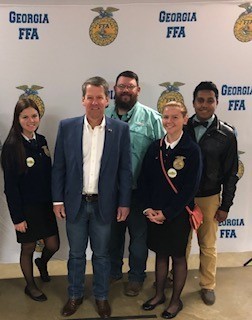 BCHS FFA Student Wins State Award
Tonja Healey
Friday, May 03, 2019
BCHS 2018 graduate, Javier Duarte won the State FFA Proficiency Award for Dairy Production at the 91st annual Georgia FFA State Convention. A state Agricultural Proficiency Award honors FFA members who, through supervised agricultural experiences, have developed specialized skills that they can apply toward their future careers. Duarte is the first student from BCHS to win a state proficiency award. Nationally, students can compete for awards in nearly 50 areas ranging from agricultural communications to wildlife management Proficiency awards are also recognized at local and state levels and provide recognition to members that are exploring and becoming established in agricultural career pathways.
Javier will represent BCHS FFA at the FFA national convention in Indianapolis, Indiana October 28-November 2, 2019. FFA allows students to compete a year after graduation. He has been advised and mentored this year under Chad Schneider, Agriculture teacher and FFA Advisor at BCHS.
Javier has worked at Brooks County Dairy for the past six years and has gained experience in artificial insemination of the dairy herd, bovine nutrition, managing the dairy and milking schedule, and daily equipment operation as well as proficiency.
Javier is a Freshman at ABAC with a major in Agriculture, Livestock Production and is still active with the BCHS FFA. Good luck at the national level and Bring that Hammer for Brooks County High!
Pictured with Duarte is Chapter Advisor and BCHS Ag Teacher Chad Schneider and Left to Right BHCS students Destiny Brevig, Gov. Brian Kemp, Chad Schneider, Shelby Luckado and Javier Duarte.