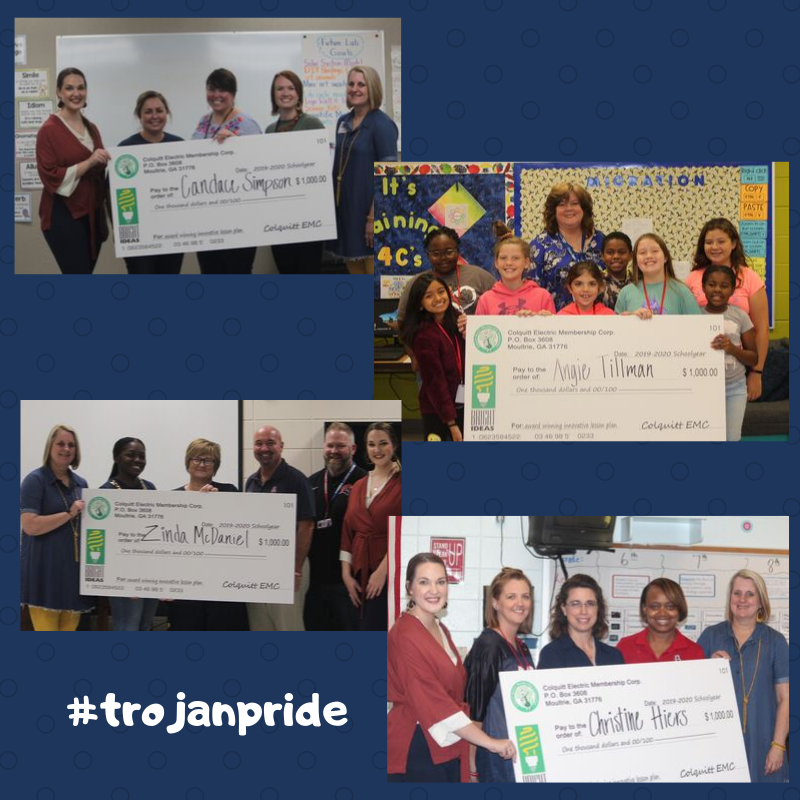 Bright Ideas Grant
Tonja Healey
Friday, September 20, 2019
We had four -- we said FOUR - teachers who were surprised when Colquitt EMC's marketing team walked in their classrooms carrying oversized checks. Christine Hiers, Zinda McDaniel, Candace Simpson and Angie Tillman won the Bright Ideas Grant for creating innovative lesson plans.
Brooks Middle School teacher, Christine Hiers won the award for her project "Down on the Farm." The grant money will support an outdoor classroom where Hiers plans to grow crops of vegetables.
Brooks High School teacher, Zinda McDaniel, won the award for her project "Teach One, Save One (Life)." The grant money will be used to purchase CPR and AED equipment to train all students at Brooks High School.
North Brooks Elementary School teacher, Candace Simpson, won the award for her project "Coding for Kiddies." Simpson plans to use her grant money to buy materials to start teaching her STEAM students about computer coding.
Quitman Elementary School teacher, Angie Tillman, will be using her grant money towards her innovative lesson plan "Stop Motion Animation to Reinforce Teaching (S.M.A.R.T.). Students will learn how to create stop motion animation from a series of photographs. This project will encourage creativity and learning while having the opportunity to express themselves through story telling.
Colquitt EMC began sponsoring the Bright Ideas Grants to support teachers with funding to put their creative ideas into action. Funding for the grants comes from the cooperative's unclaimed capital credit fund.
Colquitt EMC is a member-owned, non-profit electric cooperative that provides electricity to more than 45,000 members in Berrien, Brooks, Colquitt, Cook, Lowndes, Tift and Worth counties.