Don't forget Field Day is tomorrow, May 10. Please dress your student in appropriate attire.

Don't Forget our Spring Fling is tonight from 5-7 p.m. on the track behind the ELC! If you are attending please park in front of the gym or in the parking lot of the Board of Education office.

DECAL and Georgia's Pre-K program are partnering with the Path2College 529 plan, the official college savings plan for the state of Georgia, to sponsor this year's Pre-K to college sweepstakes. Four children from across the state will be randomly selected to win a $1,529.00 contribution for their Path2College 529 plan. The four Pre-K programs that the winners attend will also win a $529.00 check made payable to their Pre-K program. Please see the attached flyer for more information. Parents you can also follow this link to register and receive more information.
https://www.path2college529.com/buzz/prek-2019.shtml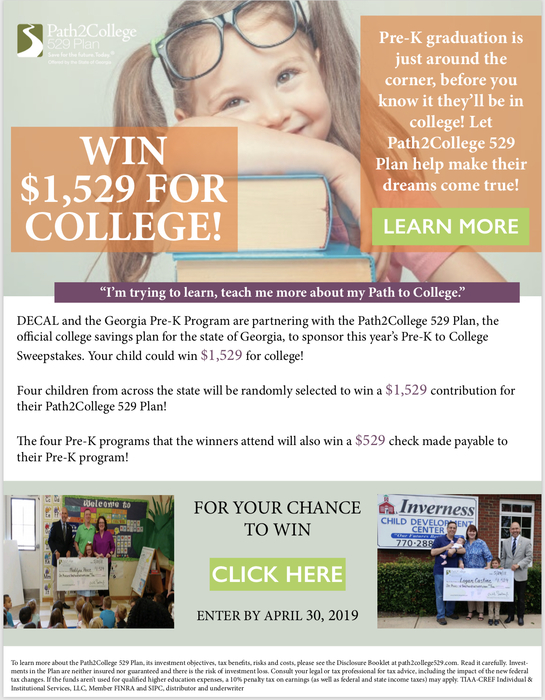 Early dismissal times for December 20th have been posted to our website and Facebook pages.
Please be reminded that the last day to pay for lunch on the day your child's class will be participating in the Make and Take at the ELC is tomorrow, September 12. If you plan to attend please send $3.75 for lunch, correct change or a check will be accepted. Reservations for lunch are required to ensure that enough food is prepared. We hope to see your smiling faces there.
All schools and offices will be closed on Monday - Sept. 3. A staff workday is scheduled for Tuesday - Sept. 4. Students will return to school on Wednesday - Sept. 5.
If your child is 4 on or before September 1st and you have NOT registered them for Pre-K, it is NOT to late. Please stop by the Early Learning Center to complete the process.
Reminder that we dismiss at 11:30 tomorrow! Unless notified differently, we will follow our normal pick up procedures. If you plan to pick your child up, please send a note in the morning!
Our End of the Year Program will begin promptly at 8:30 am at the "old" high school gym. If your child normally rides a bus and you can get them here before or at 7:45 am please do so. They have to prepare before taking the stage. Also, the shuttle bus will leave North Brooks at 7:35 am.
Join us for our End of the Year Celebration on May 22 at 8:30 a.m.!
FIELD DAY IS FRIDAY (MAY 4th). A change of clothes and shoes are needed for students to participate in water activities that afternoon. This is an outfit to be changed into after getting wet.
END OF THE YEAR CELEBRATION: May 22, 2018 at 8:30. Students are to wear our school shirts or a plain red t-shirt with khaki shorts or pants.
FIELD DAY is May 4th. First session will be 9-11. The second session will be 12-1. Please send an extra change of clothes and shoes because your child will be getting wet.
Kindergarten transition will be May 3rd. A letter was sent home with details. Please read over it. It explains what will be happening that day.
Come and join us for ELC's First Annual Spring Fling, March 29, 2018 from 5-7 pm. We will have games, prices, tickets, food and much more. So come join us as we fling into Spring!
Class Pictures March 23, 2018. All class pictures are pre-pay.
Dr. Seuss Week begins Monday, 2/26/18. Don't forget to wear your crazy socks!!
Dr. Seuss Week Mon 2/26: Crazy Sock Day (Fox In Socks) Tues 2/27: Hat Day (Cat in the Hat) Wed 2/28: Wacky Tacky (Wacky Wed) Thur 3/1: Wear Green (Green Eggs and Ham)
Reminder: The last day to order school t-shirts is February 28th.

The new Brooks County Schools website and mobile app are launching today!