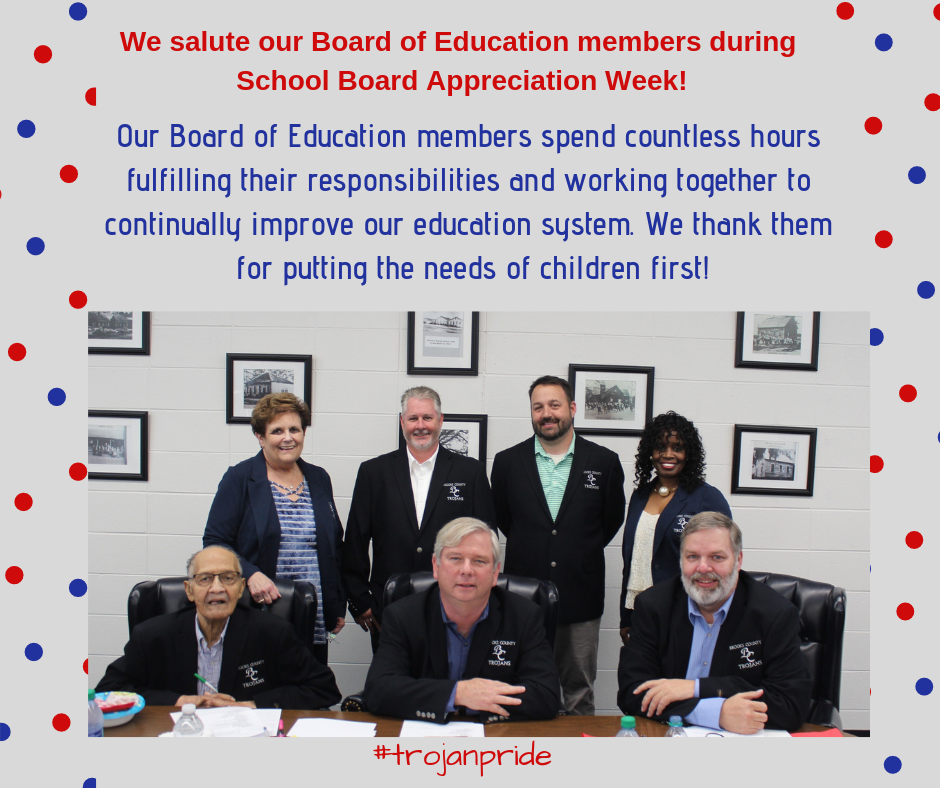 School Board Appreciation Week
Tonja Healey
Wednesday, March 13, 2019
As constitutional officers of Georgia, school board members are responsible for setting educational policies, employing the superintendent to provide buildings and equipment, operate a transportation system and disbursing of school funds. As community leaders, school board members serve as advocates for the children in local public schools and must study, evaluate and decide what actions are in the best interest of those students.
The Brooks County School district joined in a statewide celebration this week to salute the efforts of local school board members. The week of March 18-22, 2019 has been proclaimed School Board Appreciation Week in Georgia. The weeklong observance calls attention to the contributions of local boards of education.

As a group, the Brooks County Schools Board members have over 70 years of experience as Board members. The men and women serving our school district and their years of service are: Board President Larry Cunningham has served as a Board member for 26 years. Mr. Cunningham is the owner of R.L. Cunningham and Sons. Chip Carroll serves as the Board's Vice President and has 22 years of experience as a Board member. He is President of Colony Bank Quitman. Debra Folsom became a Board member in January of 2017 and is a retired Brooks County educator. Jody Hall has served as a Board member since January of 2015. He is employed by Southern States Toyotalifts. Kasey Knight became a Board member in January 2015 and is owner of Lee & Pickles Drugs. Dr. Diane Thomas, an educator in Valdosta City Schools, began serving her current term in January 2017. Frank Thomas began his tenure as a Board member in January 2001. Mr. Thomas is a retired Brooks County educator. The School Board attorney is Mr. Luke Mitchell who was appointed in 2015.