Brooks High Band Boosters Shoe Fund Raiser
Brian Law
Thursday, September 12, 2019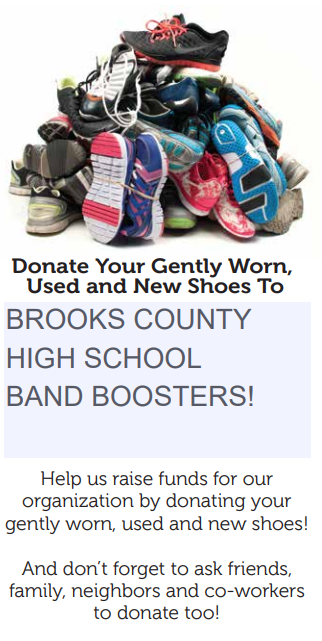 THE BCHS BAND BOOSTERS SCORE BIG WITH BOATLOAD OF SHOES!
This is our second week of the Brooks County High School Band Boosters Shoe Drive! Although we had a sleepy start, momentum has picked up as we increased our drop off locations, media outreach and word of mouth communication; we have now collected OVER 200 pairs of shoes!!!!
This is a great opportunity for the band to not just help themselves, but to help others by donating gently used and new shoes to business vendors in developing nations. You can donate all kinds of shoes! Sneakers, boots, flip flops, clogs, dress shoes, casual shoes, shoes to fit your mood, any size, any color--even baby shoes! ANY PAIR OF SHOES THAT ARE GENTLY USED OR NEW, WE WILL TAKE THEM! How many pairs will YOU donate?
Your generous donation of gently used and new shoes will help increase the strong sense of community that is building within Brooks County through our various festivals, parades, football games, and other outreaches, because truly, we are one big family.
Your donations also help our band students engage in team building activities and perform at venues they have never experienced. "We haven't decided yet, but depending on how much we raise, we are looking to perform at a popular amusement park in Florida" said Mr. Bailey, Director of Bands. Any church, civic, fraternal, business or other organizations that would like to take part in this endeavor, please call Mrs. Peggy Wilson, after 4PM at 229-300-6469, or text Mrs. Rehnea Miller, at 301-485-6458. We welcome your inquiries!
Shoes can be dropped off at all locations from 9AM to 4PM, Monday through Friday, except for Stephen's, which opens at 5PM.
Drop-off locations include: THE LIBRARY, COLONY BANK, FIRST BAPTIST CHURCH, HARDEE'S, LEE& PICKLES DRUGS, STEPHEN'S PIZZERIA, and STONE'S HARDWARE.
Contact REHNEA MILLER, BAND BOOSTER PRESIDENT Office: 229-560-8054 Email: pcessnia2u@gmail.com
PEGGY WILSON, BAND BOOSTER TREASURER AFTER 4PM: 229-300-6469 Email: peggywilson76@yahoo.com