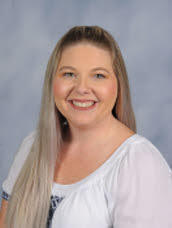 Malone Named Teacher of the Year for ELC
Tonja Healey
Tuesday, July 09, 2019
During the Early Learning Center's end of the year celebration and program, Mrs. Hardin, principal of the ELC, announced that Pre-K teacher Kristy Malone had been selected as the Center's Teacher of the Year. "Mrs. Malone has a huge heart. She not only teaches the children, but she loves them. It is not uncommon to see Mrs. Malone wrapped in a hug with one or more of her students throughout the day. Kristy Malone is the epitome of what a Pre-K teacher should be. She understands that children are children and today will be different from tomorrow" stated Mrs. Hardin.
A graduate of Valdosta State University with a BS in Early Childhood Education, Mrs. Malone has been teaching for six years with three of those years in the Brooks County School system. "My 3-year-old preschool teacher told my mom that I would be a teacher one day" said Malone. Malone's preschool teacher noticed that, even at the age of 3, Malone set about helping others in her class master tasks she already knew how to do. "When I was older, I watched someone very close to me struggle through school with not much help from their teachers. I decided then that I wanted to be the person that gives kids that struggle a fighting chance at a good education. " stated Malone. The most rewarding part of teaching is watching her students grow and learn. She enjoys getting to see that "light bulb" moment after a student has learned a new concept or task. The most challenging aspect of her career is watching her students grow all year and then letting them go.
The daughter of Donna (Randy) Merwin and Allen Fisher, Malone is married to James Malone. She is the mother of Quitman Elementary student Elizabeth Malone and son James. When not in her Pre-K classroom, Malone enjoys spending time with her family. Mrs. Malone will represent Brooks County School's Early Learning Center in the district competition for Brooks County Schools Teacher of the Year. The winner of the district competition will represent Brooks County Schools in the Georgia Teacher of the Year competition. The Teacher of the Year for Brooks County Schools will be announced at the annual Teacher of the Year banquet in the fall.